Biki (Share Bikes in Honolulu)
Bicycle
,
Hawaii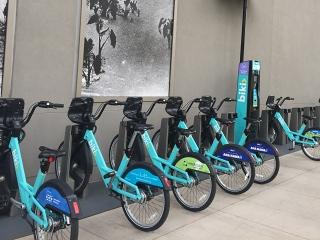 ホノルル市内では昔から観光用にレンタサイクルショップが点在しているが、少し前から公共の自転車シェアサービスであるBIKI(http://gobiki.org)というサービスが整備されて、地元民も含めてリーズナブルにかつ便利に自転車が利用できるようになっている。ワイキキを外れた観光もホノルル市内であれば効率的に回るには自転車は適している。
Bikiはアメリカのシステムらしく、全て(課金はもちろん、利用時間確認、施錠キーとしても)クレジットカードにヒモづけられていて便利であり、ホノルル市内に点在するサイクルステーションで乗り捨てや再レンタルも自由となっている。内装三段ギヤを備える自転車は重たいものの、どれを選んでも整備されていて街中のポタリング用途には十分。当然であるがメチャ長いシートポストが採用されていて長身の外国人も楽な姿勢で乗ることができる点はオリンピックを控える何処かの都市のシェアサイクルサービスにはぜひ見習ってほしい。
観光客はもちろん、自動車社会であるにもかかわらず(ホノルルという特殊環境ではあるが)地元住民も多く利用していて広く浸透していることを伺わせた。
-------------------------------
There were more than few rental bicycle shops in Honolulu from before mainly targeted for tourists. Now Honolulu has a public bike share service called BIKI(http://gobiki.org),and local residents as well as tourists can easily and usefully use bicycles for a reasonable price. Moving around Honolulu outside of Waikiki is actualy efficient by bicycle.
Biki is very "American" by the fact that everything is taken care of with a credit card.Initial registration and requesting the rental,managing the rental time,locking/unlocking of a bike, as well as the payment (naturally) is all associated with the credit card used at registeration. At any BIKI cyce station located within Honolulu, you can drrop off or re-rent the bike using the registered credit card. The hub internal geared 3 speed bicycle equipped with front/back lights and a simple front carrier is sturdy but heavy. All the bikes seem to be well maintenainced and is well enough to use for city use. The bikes are fitted with long seat posts to handle tall riders...something that a bike share service in the city coming up with the Olympics should refer to and take into account....thos seatposts are way too short DOCOMO-San !
It was noticable that the service is well sunk in to the comminity seeing not only the tourists but many local residents were making use of this bikeshare service.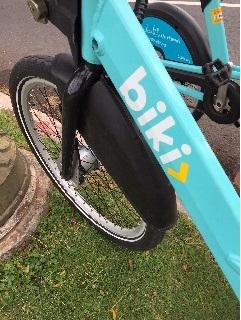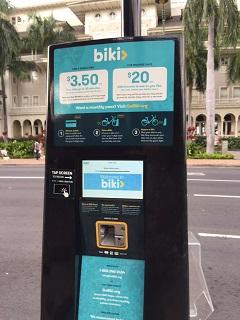 Weblog :
Column@nak
Posted by: @nak(あ) Date: 12/13,2018 1:25 PM
|
Permalink
|
Comments (0)
|
Trackback (1)
Chad-San, Again in Kailua
Bicycle
During my vacation in Hawaii, I was able to meet Chad-San, who I met in Tokyo a month ago when he was in Tokyo.
No cycling this time, but lunch together and a visit to his home in Kailua.
Always feel good to meet important international friends made through pedals and wheels !
-----------------------------------------
先月東京で会ったChadさんに休暇中のハワイで再会。カイルアでランチ後、彼のお宅にお邪魔させてもらう。
自転車を介して出逢った海外の友人と行き来できる関係は貴重。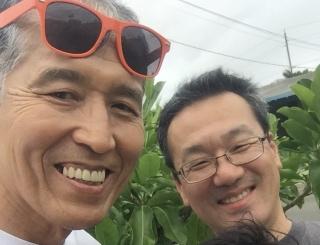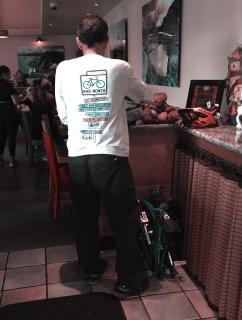 Weblog :
Column@nak
Posted by: @nak(あ) Date: 11/22,2018 4:39 PM
|
Permalink
|
Comments (0)
|
Trackback (1)
Cycling Tokyo (pottering) with Chad-San
Bicycle
Chad Taniguchi-San from Hawaii and I met in Tokyo for the first time in a long while, and went cycle pottering around town.
Chad-San and I have been friends for more than 10 years. Though we seldom are able to meet up because of half the Pacific Ocaean between us, it is fascinating that we continue our connection for such a long time. We had initially contacted each other online through the Bike Friday, and met for the first time when I visited Hawaii to participate in the Honolulu Century Bike Ride in 2005..
Chad is an executive in the Hawaii Biking community ! He used to be the Executive Director of Hawaii Bycycle League(HBL) and has been a great lead in advocating a better bike environment in Hawaii. The bike environment did in fact become better and better with with major results such as more bike lanes. As director of HBL, he's been central in hosting the Honolulu Century Bike Ride as well.
Full blown and aggressive riding is one way to enjoy cycling, but being able to connect with friends around the world utilizing the common language of cycling is another....the strong thought at the end of the day.
-----------------------------------------
十数年来のハワイの友人であるChadさんと数年ぶりに会い、都内を自転車で一日散策。
ChadさんとはBike Fridayが縁でオンラインで知り合いになったのちに、2005年のHonolulu Century Bike Rideでハワイを訪れた際にFace to Faceで会ってご自宅に招いてもらって以来の付き合いである。会うのは数年に一回であるものの、ずっと付き合いが続いている。今回、東京で数日間過ごしたのちにしまなみ海道を走るイベントに参加するハワイからのツアーにサポートメンバーとして合流するらしい。
Chadは昨年までHawaii Bycycle League(HBL...ハワイ自転車協会)のExecutive Directorを務めていた人間で、ハワイの自転車環境改善に尽力してきた人物である。ハワイ州政府と強力に連携を推進してオアフ島の自転車レーンをここ数年で大幅に整備した功労者である。また日本人にも馴染みのあるHBL主催のHonolulu Century Rideの運営の中心的な役割を果たしてきた。要はハワイの自転車環境整備におけるエライ人なのである。
ストイックに走るのも自転車の楽しみ方であるが、自転車という共通言語で世界中に仲間を作ることができるのも自転車の魅力である。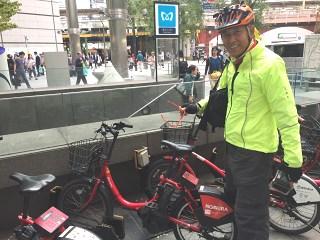 Weblog :
Column@nak
Posted by: @nak(あ) Date: 10/13,2018 10:48 PM
|
Permalink
|
Comments (0)
|
Trackback (0)