---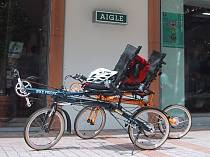 The biggest characteristic of the Bike Friday Sat-R-Day is it's style...it's a recumbent bike that has a seat, not a saddle. The pedals are located in front of the rider, not below. The rider throws his/her feet forward to pedal.
Because of it's riding position that does not require a crouched position, the sight in front is wide open compared to conventional bikes.A very easy-on-your body bike, and an eye-catcher in town. The Sat-R-Day comes in 2 models, a upright steering model and a underhand steering model. To experience the open-ness of this riding position (the steering is located beneath the seat, not in front of the rider), our Sat-R-Days were ordered with the underhand steering.
Of the many recumbent-type bikes, the Sat-R-Day shines with the fact that it's an foldable recumbent. Park & Ride...fold up the Sat-R-Days and load them in the trunk of the car, drive up to wherever you like, park your car and cycle from there. We can also fold up the Sat-R-Days and carry them on the train, a typical way of travelling within Japan.
Our Sat-R-Days were custom made, ordered through Cycletech IKD, a representative of Bike Friday in Japan.
Bike Friday Sat-R-Day(Bike Friday Homepage)
---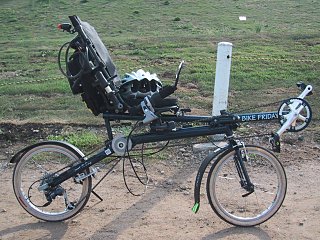 ---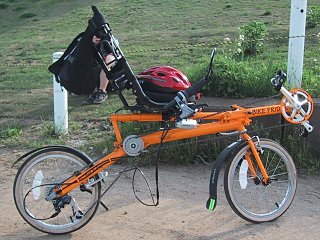 Copyright 2003 -@nak.com- all rights reserved
at_nakcom@yahoo.co.jp
---