@nak's bicycle garage...we own a bunch of folding bicycles.
---
Bike Friday Air Friday Canary Yellow (2004/3-)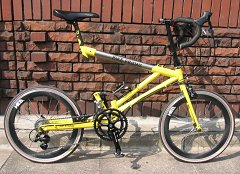 The canary-yellow Air Friday is the latest on our bike-list, and our third Bike Friday. The main feature of the Air Friday is it's titanium seat beam frame. This frame design provides comfort suitable for long-distance rides, and it's cool appearance raises your riding motivation. It's a high performance folding bike, which in minimum folding size fits in cabin luggage !
Several years ago, my wife and I had a chance to test-ride a Pocket Rocket owned by our friend. Till then, we had thought that getting the lightness, direct feeling, and the speed of a non-folding road-racer bike out of a folding bike was asking too much. We were surprized at the handling of the Pocket Rocket, and that was when we first knew about Bike Friday. Though surprized, the Pocket Rocket Pro was a bit to hard on my butt and I thought a bit softer ride would fit me more.
That night, we surfed to the BikeFriday site to look up the Pocket Rocket, where I ended up staring and sighing at the sight of the Air Friday model. (My wife's first impression of it was a "broken bike", without a setpost !)
That was then, and several years past. Last year,(2003) I had a chance to ride several Pocket series bikes, and the ride was all was exciting. The last push was in November, when we participated in Bike Friday Meeting in Japan 2003 - Karuizawa. Alan (Scholtz) brought his Air Friday, and I was knocked out by its beautiful looks.
A couple of months after the meeting, I was contacting our Japanese distributor ; Mr. Kataoka/CYCLETECH-IKD for a test ride. Yep, this was what I was looking for !
---
Bike Friday Sat-R-Day Yellow,Midnight Blue (2003/4-)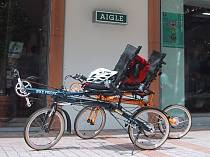 The latest ones to fit into our garage is the Bike Friday Sat-R-Day. Our first recumbent is a foldable one (!) by Bike Friday, famous for it's foldable bikes.
First thing, it's a recumbent !
After you get used to it, the ride is a very comfortable one, and the sight in front of you is uncompareable to the upright bikes.
This recumbent is a 16 inch short wheelbased model, which easily folds to fit in the luggage compartment of our car, and can actually fit into a suitcase, for airline travel ! Though it doesn't run as fast as the long wheelbased and low-profile recumbents, the Sat-R-Day is a very nice touring machine. This was our first semi-ordered bikes, and it fits us very well resulting in a very comfortable ride. Well honestly speaking, I don't have much to say yet ecause this is our first recumbent, except that is one verrry exciting bike, and one that attracts ALOT of attention, at least in Tokyo.
Tune Up ! Midnight Blue/Yellow
---
Peugeot Pacific-18 Navy/Polish(2000.07-)/R &amp M BD-3 (2001.10-)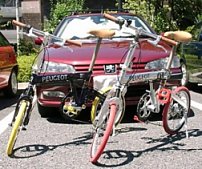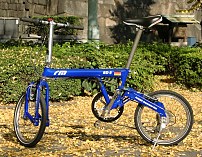 The first folding bikes we got were the Peugeot Pacific-18. Though it carries the PEUGEOT brand name, the Peugeot Pacific-18 actually is an OEM version of the the "Birdy", a bike by a German bicycle manufacturer called Riese und Muller. In Japan, the "Birdy" is imported by Mizutani Bicycles and branded as the "BD" series (BD-1, BD-3, BD-1ti etc.), whereas the Peugeot Pacific 18 is imported by Cycle Europe. The Pacific-18 comes in a very beautiful variation of frame colors, one feature that sets the Pacific-18 apart form the BD-1.
Why did we pick our two Pacific-18s ; the Navy and the Polish as our first folding bikes ?
Two reasons:
The "Birdy"(BD-1) had good reports and impressions as an all-round folding bicycle when we looked around the internet for folding bicycles.
It was "A Peugeot" !(We thought it would look good in our 4 wheel Peugeot!)
we also have another birdy...the Riese und Muller(R amp& M) BD-3. The BD-3 comes equipped with a 3x7 speed gearing... the 3 being a internal-hub gear by Sachs. The low gear is useful in hill climbing, but the gearing adds a little weight compared to the non-internal hub geared birdys.
The Pacific-18 Navy is left normal, used for in-town riding, whereas the Pacific-18 Polish and the BD-3 is tuned up and used for touring and hill climb purposes...a bit on the rough side :-).
Some links related to the Pacific-18 and the Birdy :
Riese und Muller: http://www.r-m.de/
Mizutani Bicycles(Japanese): http://www.mizutanibike.co.jp/
Cycle Europe Pacific-18 Information(Japanese): http://www.cycleurope.co.jp/P18.html
---
Panasonic Traincle7500(2001.08-)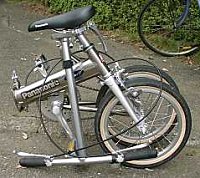 The Panasonic Traincle7500(B-PEMT223), at 7.5 Kg is probably the second lightest foling bike on earth, with the Traincle 6500 as the lightest. With 14 inch wheels, and single speed gearing, it's not the best bike for long distance touring or pass climbing. It does it's job best when casual riding around the city on weekends. The light weight and the small size when folded make it an ease to carry around when we hop on the train. (which is an important factor in Japan !)
Though I haven't tried, this thing is supposed to fit in to a JR (Japan Railroad) coin locker space (luggage space found in most railroad stations in Japan) when folded. Panasionic had actually teamed up with JR to co-develop this model to do so. That's why the name "Traincle" stands for "Train-Cycle"
Some links related to the Traincle :
---
UK Brompton Mk-3 Ivory(2002.02-)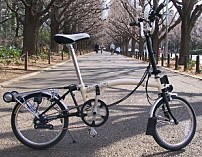 The ever famous Brompton...
---
Fun-Be Top One(Kiwa-chari,2000/5-)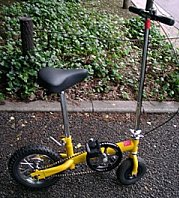 A Toy bike...look at it's size !!